Tim and Monica were married on October 10th 2020 at the Immaculate Heart of Mary church in Philadelphia, PA. They did not let COVID-19 stop them from having the wedding of a lifetime and we were so happy they let our team be a part of their big day.
See below a recap of our top 10 favorite things from Tim & Monia's big day:
The Church: Tim and Monica got married at the Immaculate Heart of Mary church in Philadelphia and we have to tell you, this church was STUNNING. The stained glass windows were an incredible backdrop for the couple to say I Do. This meant that not much extra decor was needed to make it the ceremony of their dreams.
Their Centerpieces: The high and low centerpieces are always a favorite of ours. However, we especially loved creating these high centerpieces with the tall gold architectural floral stands. They were the perfect touch to add some height and gold to the table decor.
The Sweetheart Table: The sweetheart table was also a favorite of ours with the beautifully draped floral garland that uniquely draped across the table. The added gold goblets and candles made it the perfect, romantic setting for the couple.
Their sign-in table: Tim and Monica had their guests sign a beautiful vintage record player that they would end up displaying in their home. It was both unique and absolutely perfect.
Their Transportation: Tim and Monica had rented a beautiful classic, red Chevy Malibu that helped create the PERFECT wedding photos for the couple.
Their Wedding Photos: Jen & Katie Photography did a phenomenal job with Tim and Monica's wedding photos. Jen was able to capture every moment of their big day, perfectly. We especially loved the photos in the vintage car, the shots of the wedding decor, the dance floor moments, and of course the stunning photos of the bride and the entire bridal party.
The Bridal Party Entrance: The entire bridal party (including the parents) had the most amazing entrances you could imagine. We honestly could not pick a favorite.
The Outdoor Bonfire: This outdoor fire pit in October was a perfect touch for their wedding guests who wanted to step outside for air, without freezing their buns off.
ALL of the Dancing: This wedding crowd was amazing. It seemed like mostly all of their guests were up on the dance floor having the time of their life.
The Bridal Party Wedding Favors: From the groomsmen custom handcuffs and the bridesmaids custom drinking cups, they made for perfect keepsakes for their bridal party.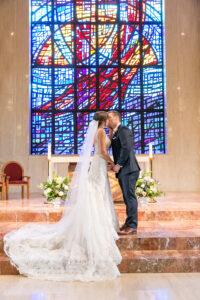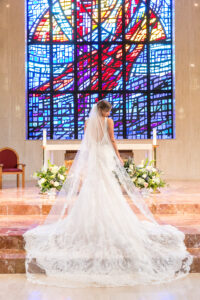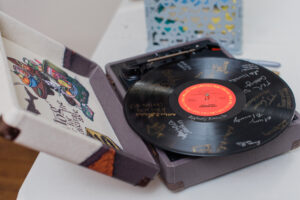 Overall, Tim and Monica's wedding was definitely one to remember and we are so blessed to have been apart of their big day!
Vendors:
Planner: Elegant Events Planning & Design
Florals: Elegant Events Florist
Photography: Jen & Katie Photography
Beauty: @rachelcarbrey_mua
Cake: Bredenbeck's Bakery
Cake: T&M Catering
Ceremony: Immaculate Heart of Mary
Entertainment: Wired Up Entertainment
Transportation: J & J Luxury Transportation
Venues: Sugarhouse Weddings & Events (at Elk Forge Inn)