It rarely takes more than just a few minutes chatting with our Elegant Event Florist team to realize that flowers and beautiful wedding décor are just the tips of what we do. This is especially true when it comes to couples planning multi-cultural weddings.
Designing a celebration that blends cultures often involves educating families, venue managers, and wedding professionals about the importance of traditions and the timing of events. We typically work with couples to engage the elders of each family and be respectful of their participation and traditions.
Theresa and Chirag's Multicultural Wedding
This incredible couple engaged our team to assist them with a three-day celebration blending Their Vietnamese, Indian, and American cultures.
The two met in Philadelphia while attending Thomas Jefferson University. While they shared many of the same interests, they knew that wedding planning would also involve their parents. We worked together to incorporate elements of Theresa's Vietnamese heritage as well as Chirag's Indian traditions.
They decided that hosting multiple events to honor each of their backgrounds was the best option.
Honoring Tradition
The events began with an evening event bringing together immediate family and wedding party in a Mehndi party with fusion foods that incorporated vegetarian and non-vegetarian food items.
The following evening the traditional Vietnamese tea ceremony was held at The Notary Hotel. This intimate ceremony was the perfect way to introduce and welcome Chirag's family to Theresa's family. The couple followed the ceremony with a dinner combining both Indian and Vietnamese food stations.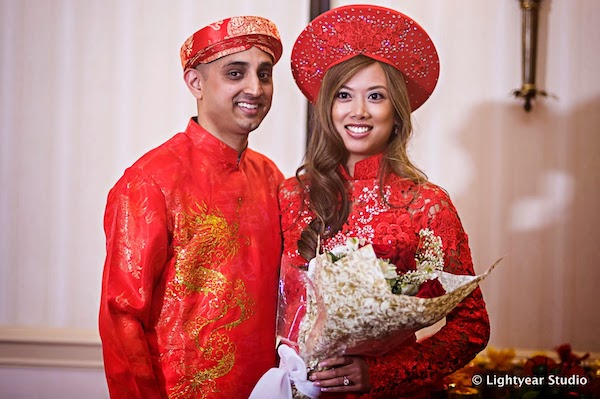 After the Tea Ceremony, introductions and dinner, there was an Indian Pithy ceremony to bless the groom, followed by the traditional Indian Rass and Garba dances of celebration.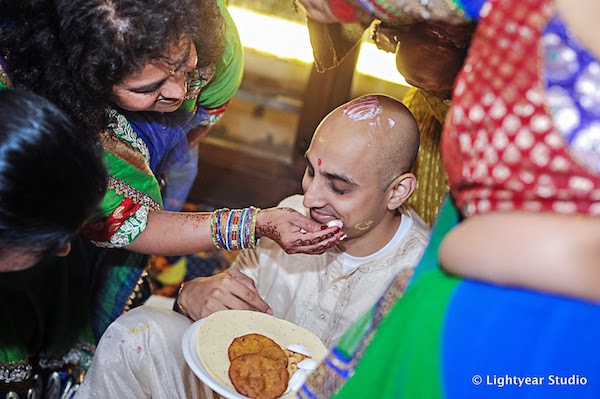 Getting Married
Following two days of pre-wedding celebration honoring each family's traditions, the couple was married in two unique wedding ceremonies.
Theresa's Vietnamese family practices Catholicism, so the day began with a Nuptial Mass held at St John the Evangelist Roman Catholic Church, followed by a luncheon at Marriott's Notary Hotel.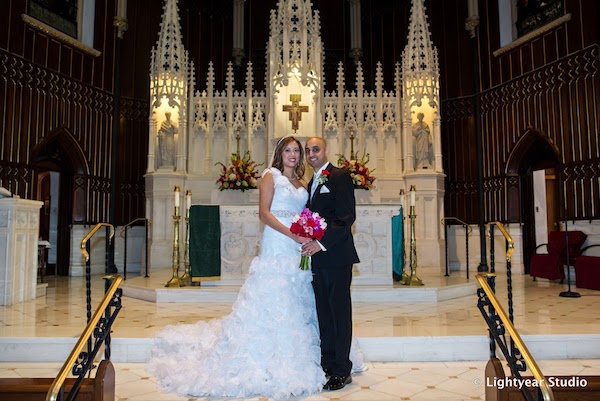 The afternoon events included a change of clothes for the newlyweds in preparation for an Indian wedding ceremony.
Chirag arrived in on horseback, leading family and friends as part of the Baarat and was greeted by the bride's family and led to the ceremony space.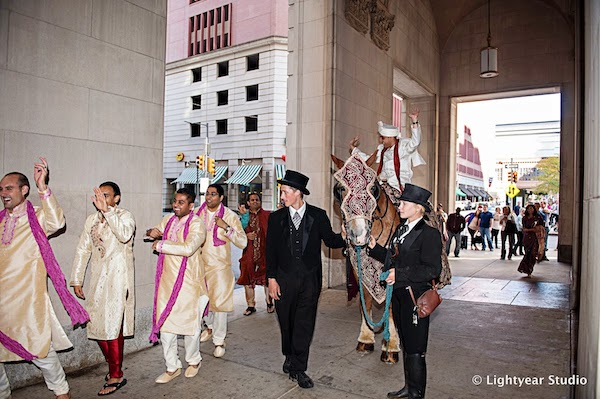 The Indian wedding ceremony began with a Ganesh Pooja, praying to Lord Ganesh to remove all obstacles, and for good luck to be bestowed onto the couple. The couple and their parents then performed the wedding rituals under a beautifully decorated Mandap.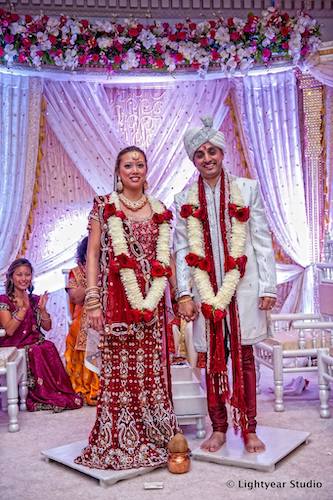 A little later in the day, the beautifully decorated white horse was attached to a carriage transporting the couple to the reception.
It's Time To Party
The day filled with two wedding rituals ended with an evening filled with food, fun, and family on the Kimmel Center's rooftop in the Hamilton Garden.
It also included yet another change of clothes for the newlyweds-their fifth – that included a little more American tradition. Theresa included beautiful blue rhinestone-studded shoes with "I DO" on the soles. Chirag added a touch of style with Batman cufflinks that paired with the groomsmen's superhero cufflinks.
With dancing being a considerable part of each family's traditions, the reception design included an oversized, white dance floor customized with the bride and groom's names. It was the perfect space for traditional Vietnamese dragon dancers and some Hollywood style dance performances.
Garces Catering Group from the Kimmel Center collaborated with a local Indian chef to prepare fantastic fusion foods. The cocktail hour included Indian and Vietnamese stations and passed hors d'oeuvres. Entrée selections included a choice of two non-vegetarian entrees or an Indian vegetarian trio. 
Bringing It All Together
We love being able to work with couples to combine incredible décor and elements that reflect both families, traditions, and heritage.
Weaving their stories together into a series of seamless events that honor their families is what we love most about multicultural wedding celebrations.
Thank you to Lightyear Studio for sharing the beautiful images from these events as well as this incredible wedding film.