Laura and Kunal were married on May 29th 2022 at the Industry Event Space and it was an absolute dream Indian wedding. 
The Flowers
So many vibrant colored flowers filled every celebration of their traditional Indian wedding. Laura's bridal bouquet, table centerpieces, sweetheart table, and the Mandap were done beautifully by our team at Elegant Events. With the vibrant pinks, ivory, light blue flowers and touches of gold, it was a wedding to remember. 
Laura's bridal bouquet was a perfect pop of color to her already beautiful A lehenga (traditional Indian dress). 
Flowers spilled out of beautiful gold geometric stands for half of the reception table centerpieces and the other half consisted of a beautiful arrangement in gold vases.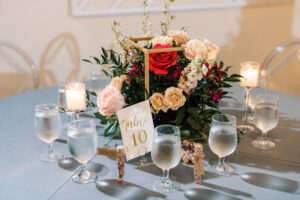 Laura & Kunaul's sweetheart table was one of our favorites that we have done. Not only was there a large statement floral centerpiece on the top of the table but there were tall/large geometric stands with flowers on each side of the sweetheart table. We also had a smaller geometric stand with flowers spilling out in front of the table and a large hexagon arch in the back with flowers perfectly placed around.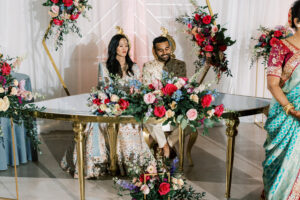 The Mandap was draped beautifully with white fabric. Large/tall geometric stands with flowers on top were placed all around the mandap and large flower clusters were placed around the front of the Mandap.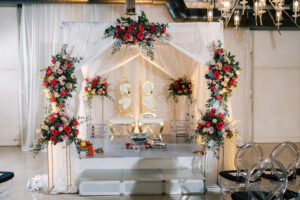 The Dancing 
All we have to say is Laura & Kunal's wedding party knows how to have a good time. With all the dancing at the Baraat and all the dancing at the wedding reception, the wedding was a night to remember.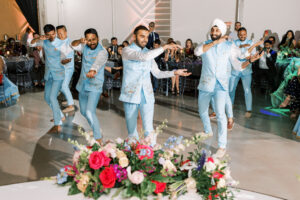 The Attire 
Traditional Indian attire is always bold and beautiful and Laura & Kunal's attire were no exception. We loved the soft blue and gold for the wedding party and then the ivory and gold colors (with a touch of light blue) for Laura and Kunal. 
The Cake
Why have a six layered cake when you can have a one layer cake and four layers of donuts? This not only looks fun but also makes it so much easier for guests to just grab a donut and head to the dance floor! No worrying about cutting the cake to serve everyone.
Wedding Chairs
Those crystal clear chairs with black cushions for the guests and beautiful tall ivory and gold chairs for Laura & Kunal, made a big impression on us. 
Vendors:
Photo: Samantha Jay Photo
Florist: Elegant Events Florist
Venue: Industry Event Space