Our Elegant Events Florist team is working with couples across Philadelphia, South Jersey and Delaware to create socially distant wedding designs for the 'new normal.'
Truthfully, we're helping to design PHYSICALLY distant designs, because we're ready to see people be social again. But being physically distant is the key to keeping you, your family, and wedding guests safe.
When you say, "I Do."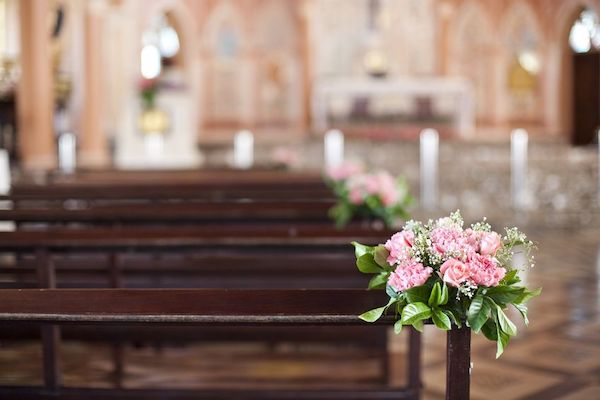 As we are permitted to gather again, the house of worship where you may be hosting your wedding ceremony may have some very specific regulations. Seating for your wedding ceremony that can safely separate wedding guests can be practical and pretty.
Seating every other pew, typically, allows for ample space between wedding guests. The in-between pews can be roped off by adding beautiful clusters of flowers, the seats on either side connected with a piece of ribbon.
It might also be the time to add additional reserved seating for your immediate family and special guests. Adding a reserved sign with their names can be added to a pew or seat to assign their seats and allow for distance as needed.
Special touches like individual packs of tissues and bottles of hand sanitizer can be a nice touch as wedding guests begin to gather. An usher with gloves and a mask handing them out can make everyone more comfortable.
The Great Outdoors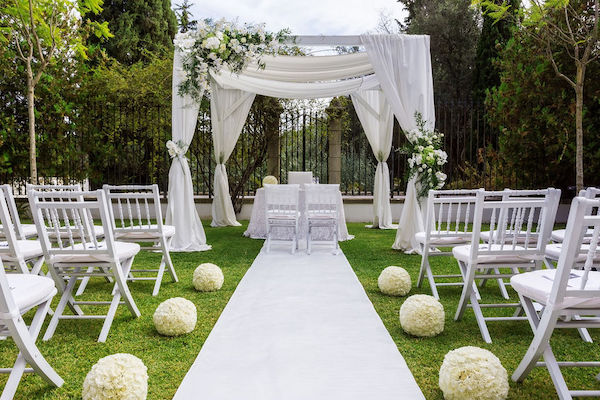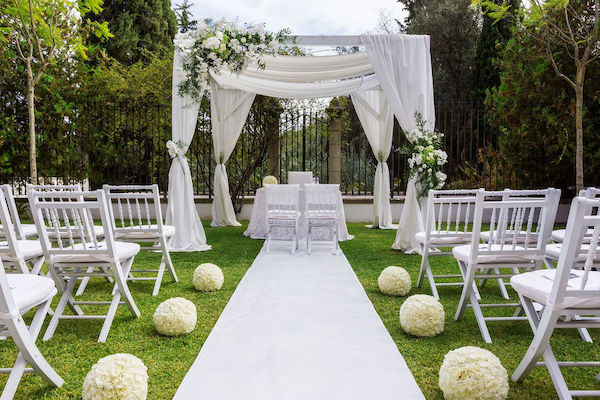 Our Elegant Events Florist team does a lot of beautiful outdoor wedding ceremonies, and being outside gives you more opportunities to stay physically distant.
Including a sound system is essential for an outdoor wedding ceremony. But as we design to allow extra distance between seats and family groupings, we want to make sure everyone can hear.
If at all possible, hosting your cocktail hour outdoors allows for people to spread out. Consider adding in a few additional low tables with seating for four; this helps encourage people to separate a bit more than standing together.
Take a Seat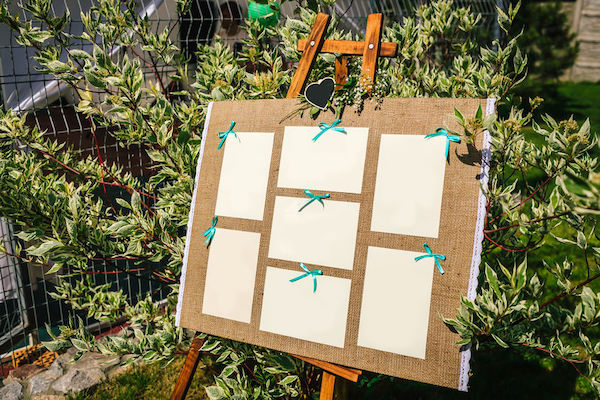 Seating charts and escort card tables are one place where wedding guests tend to bunch up.
Having seating charts or escort cards during the cocktail reception allows for wedding guests to find their seats at their own pace, rather than all at once as they approach the reception.
Consider doing multiple escort card tables, create tables with beautiful arrangements and candles on each one. A table with last names A-H on the first and so one and spacing them apart keeps wedding guests at a safe distance.
The same can be accomplished by creating multiple seating charts and spacing them around the cocktail reception. Consider having multiple entrances to the reception space to allow guests easy access to the ballroom.
We love creating a plant wall or focal point to place just inside the event space. This simple design element forces guests to separate left and right as they enter the room. We also know that the backside of these elements makes an excellent backdrop for selfies!
Creating and Inviting Space
As some venues will be limited to 25 or 50% occupancy, as weddings resume, we will work with couples on designing beautiful spaces that function to keep guests at a safe distance.
Wedding and event industry guidelines are recommending no more than six people at a large 60" round table and fewer than that at an 8' long table, depending on the family dynamics. Based on these recommendations, a wedding with just 80 guests might require nearly 14 tables. With previous seating arrangements, we might see only eight tables.
Couples might consider utilizing smaller round tables with four wedding guests to a table, as these require a smaller centerpiece than a large round or rectangular table. This is not only more cost-effective than the centerpieces for the additional large tables, but these smaller arrangements could be sent home with guests as a wedding favor.
Additionally, it helps to utilize the entire space allowing for better physical distancing.
Just You and I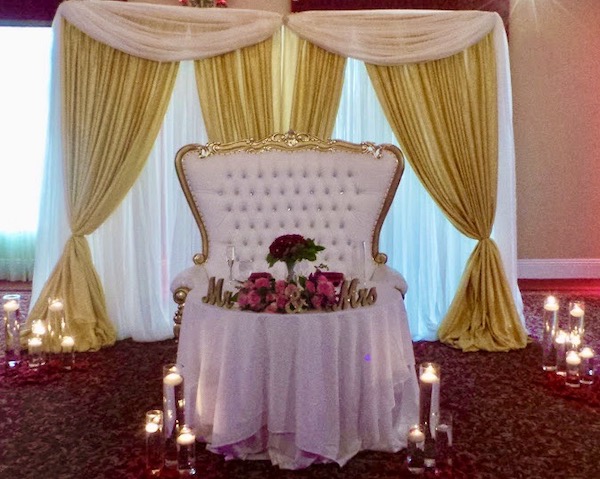 Sweetheart tables are more popular than ever, but we still see a lot of large head tables. Now more than ever, sweetheart tables can be both beautiful and practical.
A sweetheart table allows for the safety of your wedding party, allowing them to sit with their significant other and family.
It's also a great way to add an incredible focal point. That simple table with the two of you can become the centerpiece of the reception.
Add a pop of texture and color by upgrading to a spectacular linen, and you just need one! Bring in some bling, add some candles and even repurpose some of the ceremony décor as a backdrop.
Add A Warm Glow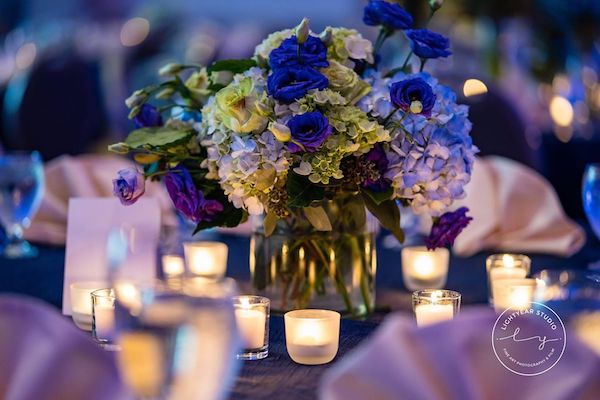 We're finding that for the immediate future, caterers may no longer be placing service items such as salt and pepper shakers, water pitchers, butter or dressing and will be bringing them to the table as needed.
This can leave a lot of open space on your guest tables. Adding in votive candles, pillar candles, and floating candles can be an affordable way to add a warm glow and fill in some of that negative space.
Up-lighting and ceiling wash add a pop of color and warmth to your wedding space, and they can make the area feel more intimate. You can even add interest by changing colors between courses.
We also love the addition of trees, and some with lighting, to help add depth to the space, and they can also be used to direct wedding guest to keep them separated.
Spread Out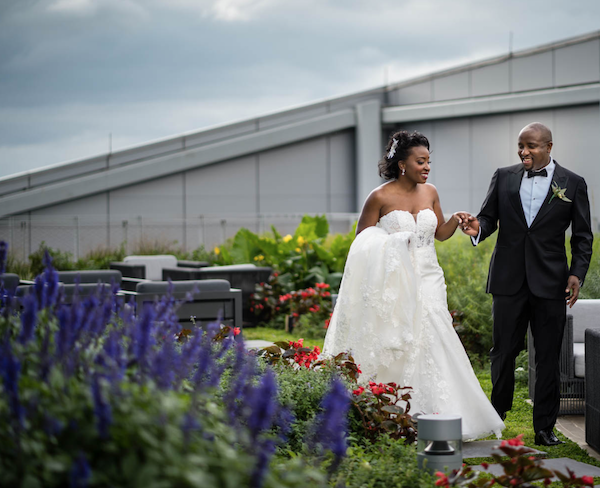 We work to create an environment where guests can spread out as they move about the reception.
Make spreading out as easy as possible by including an additional bar where guests might go for just beer and wine. Add signs to let them know what selections are available and even consider cute markers on the floor to keep them 6 feet apart.
We're even seeing spaces designed with several mini-dancefloors where a few couples or families can dance, keeping large crowds from forming.
You Do You
Socially or physically distant doesn't have to mean blah and boring. We can assist you with branded designs to match your wedding colors, hashtags, or monogram that direct and inform wedding guests. You could also outfit the service staff with masks in your wedding colors!
Regardless of the size of your wedding or the dynamics of your family and wedding guests, our Elegant Events Florist team will help you design an elegant, warm, and inviting space to help keep everyone safe.