Brianna and Jason were married on June 30th 2022 at the Arts Ballroom in Philadelphia, PA. Their wedding turned out to be a fairytale, all white affair that would be the epitome of any little girl's dream. 
Their Wedding Attire
The bridesmaids wore beautiful floor length emerald green dresses while the groomsmen wore a dark green tinted tux to match. Bridal bouquets and groom boutonnieres consisted of classic white roses to add that perfect touch of white to their attire. 
Brianna wore a classic white ballgown with a stunning long pearl beaded veil. We were also a fan of how Brianna went a different route and decided to wear her hair down with a beautiful thick white beaded headband. She didn't need to add much jewelry  because of the beautiful detail on the dress already.
Jason, like the groomsmen, wore a dark green tinted tux, with a shiny  lining and a black tie. The white  rose boutonniere added a perfect touch of white.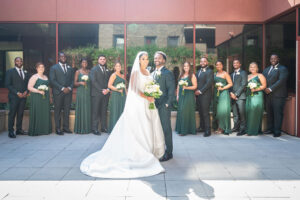 Table Decor
The reception was filled with an assortment of round guest tables, as well as long rectangle tables. Each table had beautiful silver chiavari chairs with gray cushions. 
The round guest tables were lined with black napkins, silver votive candles, and a tall crystal vase topped with a beautiful arrangement of white flowers. 
The long rectangle tables were also lined with black napkins and silver votive candles, but the centerpieces consisted of greenery lined down the middle with gentle white flowers placed evenly throughout it. 
| | |
| --- | --- |
| Photo: McShea Photography | Photo: McShea Photography |
Ceremony Decor
Along with rows of beautiful silver chiavari chairs for guests, the aisle was lined with clusters of tall votive candles.
The main backdrop of the ceremony was the fireplace. The fireplace had beautiful greenery along the top and down one side. One corner on top of the fireplace, as well as a bottom portion had a cluster of greenery and white roses. The bottom of the fireplace also had a large cluster of tall votive glass candles.
| | |
| --- | --- |
| Photo: McShea Photography | Photo: McShea Photography |
Wedding Photos
Brianna and Jason had some beautiful wedding photos taken by McShea Photography. They took some classic and stunning shots around Philadelphia (rooftops and in front of city hall) that blew us away. 
| | |
| --- | --- |
| Photo: McShea Photography | Photo: McShea Photography |