Brittney and Dwayne did not let Covid stop them from having a beautiful and elegant wedding in the heart of Philadelphia. This wonderful couple was married on October 10th, 2020 at The Liberty View at Independence Visitor Center. Due to covid rules, this couple decided to have a "micro wedding" which meant that their guests only included their closest friends and family to keep the numbers down to a minimum. However, this did not stop them from having an unforgettable night. 
A couple of our favorite things from Brittney and Dwayne's big day: 
Their wedding photo locations. Anthony Page Photography was able to capture some breathtaking photos of the couple in the heart of Philadelphia. With the backdrop of city hall, independence hall and other beautiful historic buildings in the city, Anthony Page was able to capture some beautiful photos. 

The bride's attire. Brittney was a vision in her wedding attire. From her stunning long sleeve mermaid dress, jewelry, veil and sparkling silver heels, Brittney made a gorgeous bride. 

The groom's attire. Dwayne did not settle for the traditional black tux. Instead, he went with black slacks and a purple coat with black trim. It was a great look for the groom, and complemented their wedding colors, perfectly.

Zoom with friends and family. Since the couple was unable to invite their entire guest list, they made sure they zoomed in the rest of their friends and family to share their special day. 

The floral arch. Decorated by yours truly, this floral arch was a perfect backdrop for the couple to say "I Do." 

The father-daughter dance. How can you not highlight a father-daughter choreographed dance? It was phenomenal.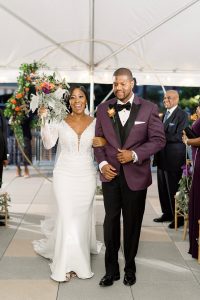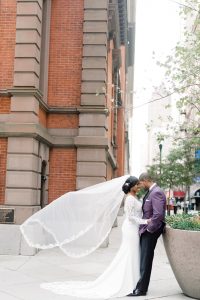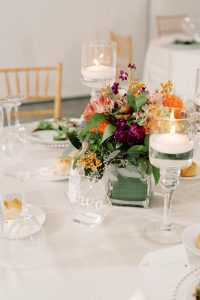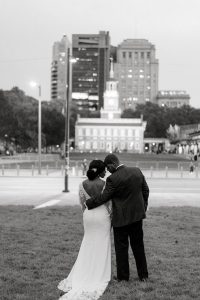 Vendors from Brittney and Dwayne's big day: 
Florist: Elegant Events Florist
Planner: Elegant Events Philly
Beauty: @sheenamarie.mua & @lavish_jcsalon
Catering: Brulee Catering
Cinema: Lightyear Studio
Entertainment: The R Productions
Officiant: Say We Do! with Stacey
Photography: @antpagephoto
Stationary: @basicinvite